Responsive design brings a variety of benefits – both for brand marketers and the consumers interacting with content across multiple devices. According to data from a December 2012 study conducted by eConsultancy, nearly 70 percent of client-side marketers described their experience level with responsive design as "average" or better, and more than half of that group described their companies as "ahead of the curve" or "state of the art" when it came to the design technique.
As advanced as some brands and in-house digital marketers may believe they are in responsive design, there are still quite a few challenges that optimization experts and digital marketers must heed. Here are some lessons CMOs can use to get strategic in their approach while driving real, impact-filled growth to the bottom line.
Rule #1: Don't Become Complacent
Since the mobile marketplace is extremely dynamic and the mobile consumer is ever changing, don't become complacent just because you launched a responsive-design site.  At the beginning of 2013, tablet users were already showing a higher conversion rate than desktop shoppers. Moreover, 20 percent of mobile users use it as their primary device. This means consumers are evolving more quickly than you may think, so closely monitor your analytics. In fact, companies like Gilt have seen a 100 percent increase in mobile users in a single year.
Rule #2: Always Be Refining
Continually develop and refine new design iterations that work seamlessly across multiple screen sizes and functionalities (e.g., touch, swipe). Being immersive is just as important as being intuitive. Pinch, swipe and zoom are features that smartphone and tablet users know and love. In the early days of responsive design, it was said that these were features that couldn't be tapped into. With today's more common blend of adaptive and responsive design, we know that this is not the case. Developers have touch-screen-specific controls at their disposal, and customization can be achieved through injection of JavaScript, for example. It's important to strike the right balance between optimal performance (page-load time) and customization, as the two are interrelated.
Rule #3: Never Stop Testing and Learning
Always be testing and learning with your responsive-design site so that key information and functions are visible, prioritized and accessible to people regardless of what device they are using. Getting shoppers to move through the entire funnel – starting on the home page and moving to key product and landing pages all the way through the checkout process – is no easy feat. Each consumer, be it a first-time visitor or a longtime brand advocate, wants something different and unique from the checkout process. For a big-box apparel retailer, for example, free shipping can prove effective in rewarding high-value customers and cultivating loyalty among a brand's average customers. This is where testing and learning play an integral role in pinpointing the optimal threshold for free shipping to boost online sales and grow the brand's market share amid competitors. The data and insights delivered from a test-and-learn strategy could very well disprove brand assumptions and, in turn, generate the type of ROI brands seek such as higher average order value, as well as an increase in purchase conversions and overall revenue. 
Rule #4: Leverage All Data
Even the most basic site analytics can reveal huge potential opportunities.  Incorporating analytics early in the development of a responsive-design site is important. Set your responsive breakpoints you seek to track within your analytics solution and run a report for traffic to specific pages by device type. You'll be able to glean a wealth of information about which areas of your site are seeing the heaviest tablet traffic, compared to areas with significant upticks in smartphone-only traffic.  You'll also be able to see which areas produce low traffic or poor conversions. This tactic can help you optimize the customer experience to drive customer engagement, loyalty, conversions and revenue consistently for the long haul.
Back in 2001, when Google AdWords was just launched, I remember the day that my first pay-per-click (PPC) campaign yielded the first batch of leads for the company I was working for. In all, this tactic generated 42 leads, and a significant portion was even qualified. Better yet, the price was just right, ranging between 15 to 25 cents per click. It seemed like a great tool to grow our website traffic, as well as an effective means for generating unique leads. There was no doubt in my mind we were going to scale this campaign.
Since then, a lot has changed in the PPC world. Now there is a great deal more available in terms of competitive products from other search engines like Bing. You don't just have an array of search ads; now there are native ads on Google that replicate the search experience, remarketing display ads, mobile ads, Facebook-sponsored ads, sponsored tweets via Twitter and LinkedIn ads. The CMO has fallen in love with performance-based ads like these PPC ad vehicles, mainly because they work (to some extent) and it's easy to justify a budget for it when a return can be clearly shown to the CFO.
But like any ad, the efficacy of a single ad deteriorates over time because people become numb to repeated exposure to the ad. So the typical reaction is to change the ad around and run it again. But what happens when the efficacy of the ad network declines? The usual approach from marketers is to simply run more ads and spread them out in different places — all in the hopes that they will stick somewhere. But hope and guesswork do not make an effective strategy.
It's amazing to me that so many enterprise-level CMOs focus on increasing their digital advertising budgets as the first option to increase online engagement. That's only going to lead to a flawed strategy and less-than-stellar results. Why would you spend a lot of money, resources and staff hours on mobile ads if the online or mobile experience itself frustrates, irks and turns away customers?
What CMOs need to do is focus on creating seamless, easy-to-use-and-navigate, relevant and meaningful experiences for customers, regardless of their device or channel. And that doesn't mean launching a full redesign of your website with fancy UX architecture, nor does it mean you should put all your mobile eggs into the responsive design basket. It means taking the slow and steady approach to test and tweak every single experience across the entire engagement funnel and using real-time data to power more personalized experiences that meet the individual needs, habits and behaviors of customers.
But before CMOs raise their hands in the air in praise of online testing and personalization, they need to make sure that they're measuring the right metrics (that really matter for their business). For instance, analyze bounce rates and your average number of page views. These types of insights can tell you a story about your visitors — who they are, what they're doing, where they're going within your website or mobile site and what types of actions they're taking. What if you have a high double-digit bounce rate of 30%, 40% or even 50%? This is what's commonly known as the "show up and throw up" approach in the Web business. Most likely, you have a low single-digit page view of 1.xx or 2.xx, which is not uncommon. This is where the money is literally falling out of your budget. And that's not something CMOs can or should take lightly.
Consider taking a piece of your PPC ad budget and instead, put it to good use by testing and optimizing your online experience. I'm not talking about search engine optimization (SEO). What I'm talking about is making every single page a funnel within a website or mobile site optimized and personalized for the actual traffic you are driving to it. For example, if Facebook is driving a certain portion of traffic to your website, are you using all of the data you have about those visitors and combining it with Facebook data to create the most intuitive, relevant and engaging on-site experience to convert "lookers" into purchasers? If a mobile ad is directing smartphone users to your mobile site, have you tested the specific page they're landing on and optimizing it to drive higher engagement, conversions and cross-channel revenue? If your answer is no, then you have a serious problem.
The reality is that in a world where the consumer reigns supreme, there is an abundance of opportunities for brands to connect, interact with, speak to, engage and convert casual browsers into loyal brand advocates. So it's high time brands stop running themselves ragged with PPC ads and start putting their attention toward creating a unified customer experience across every single device and channel.
Search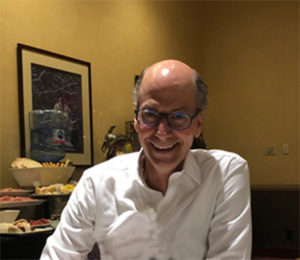 Welcome to my blog, my name is Paul Dunay and I lead Red Hat's Financial Services Marketing team Globally, I am also a Certified Professional Coach, Author and Award-Winning B2B Marketing Expert. Any views expressed are my own.